Our Appetizers (Izakaya Menu)
Sashimi, Fish, Deep fried dishes, Stir-fries, and other small dishes...you can take your time to choose and enjoy our authentic cookings.
We also provide "Beef Liver Sashimi" which is no longer available in Japan now.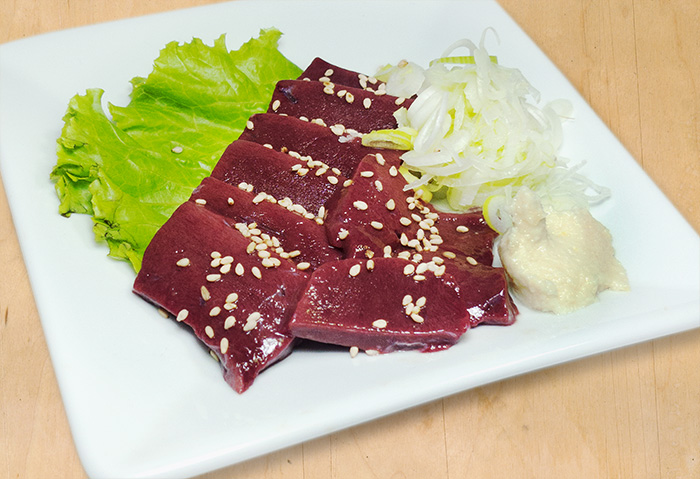 Beef Liver Sashimi 200B
You can't have this in Japan anymore! Must try.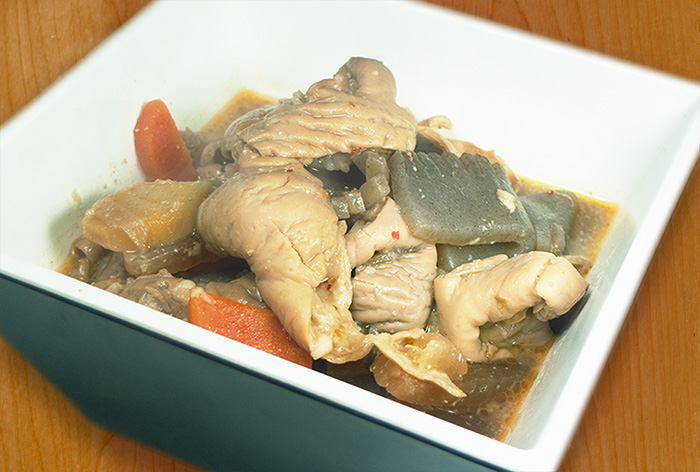 Simmered Beef Giblets 130B
Our most popular dish of all times. Incredibly soft innards you will enjoy.Recommended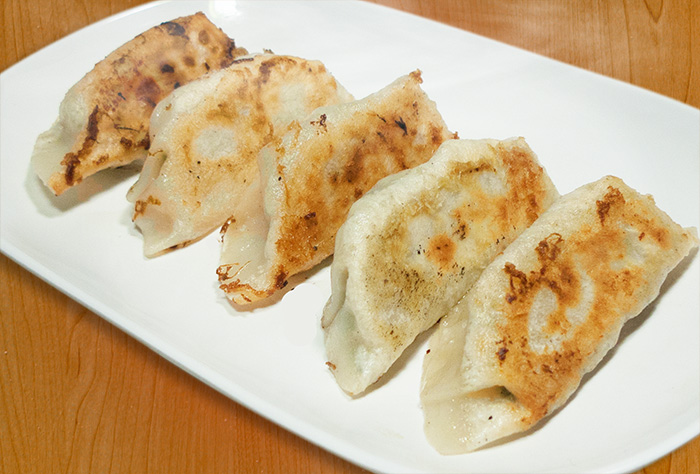 Dumplings 100B
We wrap each piece with our hearts.
Recommended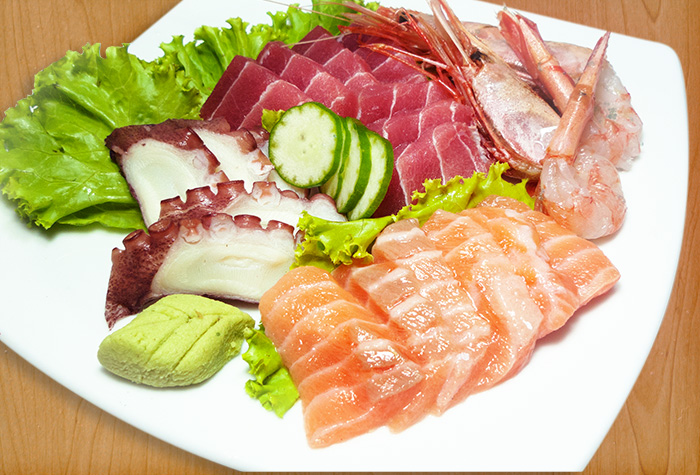 SASHIMI Set 400B~
Straight from the fish market! Worth a try.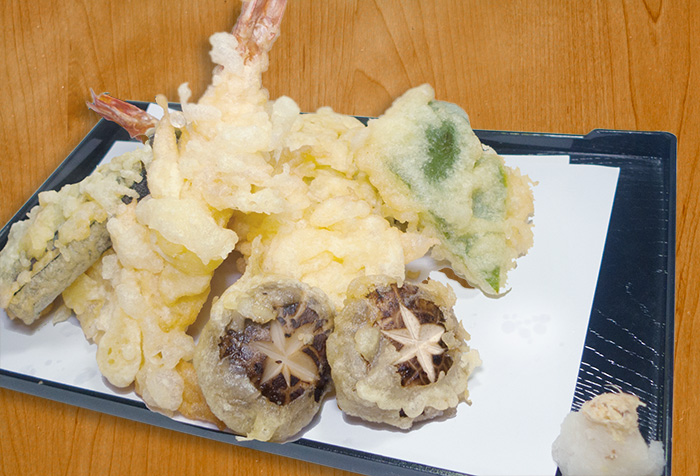 Assortment of TEMPURA 250B
Crispy and juicy! Our tempura is so good you would want it again.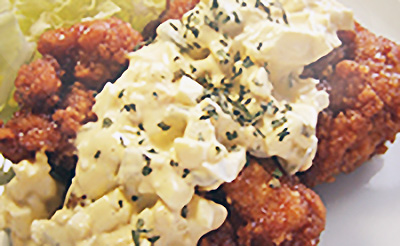 Deep Fried Chicken with Tartar Sauce 150B
Deep fried soft chicken breast with tasty sauce is the best match!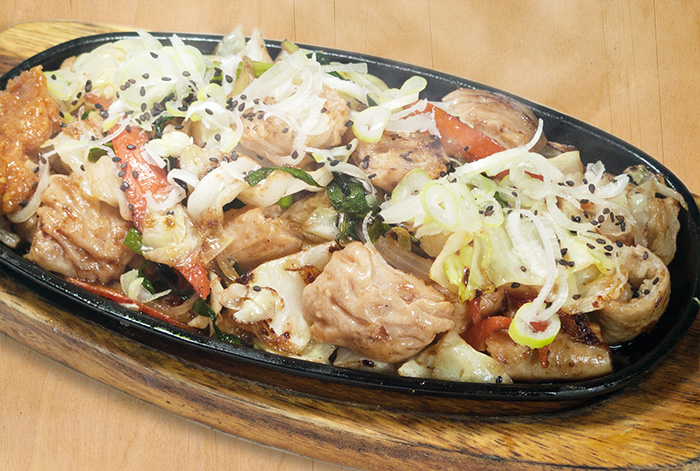 Roasted Organ Meats on a hot plate(with Green Onion & Vegetables) 150B
Another way to enjoy the innards.
SASHIMI
| | | |
| --- | --- | --- |
| SASHIMI Set | Tuna sashimi | Yellowtail sashimi |
| Salmon sashimi | Deep-water Shrimp sashimi | Octopus sashimi |
| Vinegared Mackerel sashimi | Squid sashimi | Boiled Krab Paste |
Fish Dishes
| | | |
| --- | --- | --- |
| Grilled Mackerel Teriyaki | Grilled Pacific Saury | Grilled Salmon |
| Grilled Japanese Squid | Grilled Squid with Butter | Simmered Mackerel with MISO sauce |
A la carte Dishes
| | | |
| --- | --- | --- |
| Beef Liver Sashimi | Boiled Soybeans (Edamame) | Japanese Pickles |
| Cold Tofu | Octopus with WASABI | Cucumber with Unrefined Soy Sauce |
| Sliced Fresh Tomato | Simmered beef Giblets | Simmered beef Giblets with Tofu |
| Pork Boild with Soy Sauce | Marinated Century Egg | Korean Pickles Kimuchi |
| Salted Squid | Fresh Egg with Grated Yam | Tuna Sashimi with Yam |
| Yam-Potato Thin Cut | Squid Sashimi with NATTO | Spuid sashimi with Seasoned Cod Roe |
| Deep Fried Tofu | Fried Eggplant with Grated Radish | Tuna (soy sauce) with Garlic |
| Marinated Octopus | Plain Omelet | Chinese Chiva Omelet |
| Dumplings | Hamburg | Tomato Omelet |
| NATTO Omelet | | |
Deep-fried Dishes
| | | |
| --- | --- | --- |
| Assortment of TEMPURA | Prawn TEMPURA | Vegetable TEMPURA |
| Pork Cutlets with MISO Sauce | Pork Cutlets on Skewer | Pork Cutlets |
| Deep Fried Squid | Egg Coated Pork Cutlets | Deep Fried Chicken with Tartar Sauce |
| Deep Fried Chiken | Deep Fried Wing | Deep Fried Gristle |
| Deep Fried Octopus | Fried Bitter Melon | French Fries |
Stir-fried Dishes
| | | |
| --- | --- | --- |
| Roasted Organ Meats on a hot plate (with Green Onion & Vegetables) | Roasted Organ Meats on a hot plate (with Green Onion & Mushrooms) | Roasted organ meats on a hot plate (with Nagoya Miso & Vegetables) |
| Liver & Chinese Chivge | Beef Uterus & Celery | Fried Gizzards |
| Asparagus & Bacon | Goya(Bitter Melon) Mix Grilled | Sweet and Sour Pork |
| Pork & Kimchi Grilled | Tofu and Sour Soup | Vegetables & Pork Grilled |
| Chinjaorosu | | |