Izakaya BAKU
Our Restaurant
Izakaya BAKU is the one and only Japanese-style BBQ (Yakiniku) restaurant in Pattaya.
From Beef ribs, tongue, large intestine, and small intestine, in addition to the Liver sashimi which in Japan is no longer available now. We have 3 kinds of special sauce available for you, from hot and spicy, sweet, and salt-based sauce.
Our restaurant offers comfortable environment with a lot of lights and sunken tables (Japanese Horigotatsu style), and the TV in the restaurant shows Japanese programs, and with friendly staffs welcoming you at any time. We hope you enjoy the atmosphere like you are in an Izakaya in Japan.
We also have 2 private rooms in addition to the regular tables (with NO table charges), in case you have a business dinner, meetings, or if you are with small children, feel free to ask for these rooms at any time.
CONTACT
Hours PM17:00-AM02:00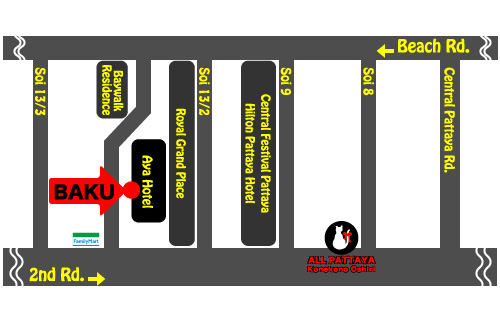 WHERE WE ARE AND WHERE YOU CAN PARK
Parking at Royal Garden Plaza (2-3 mins walk)
We will give you a 100 Baht voucher if you bring a parking ticket.
●Inquiry and Reservation by Phone●(Japanese, Thai, and English)
038-429-610 daytime
TEL 098-990-7749
555/56 Moo10 Nongprue Banglamung Chonburi, 20150 Thailand
(Google Map will open in a new window)
Information from BAKU
BAKU aims to plan and provide services for all customers for the utmost satisfaction, so all of you can have fun and relax while you are with us.
If you notice anything or have any comments about anything, please feel free to let us know.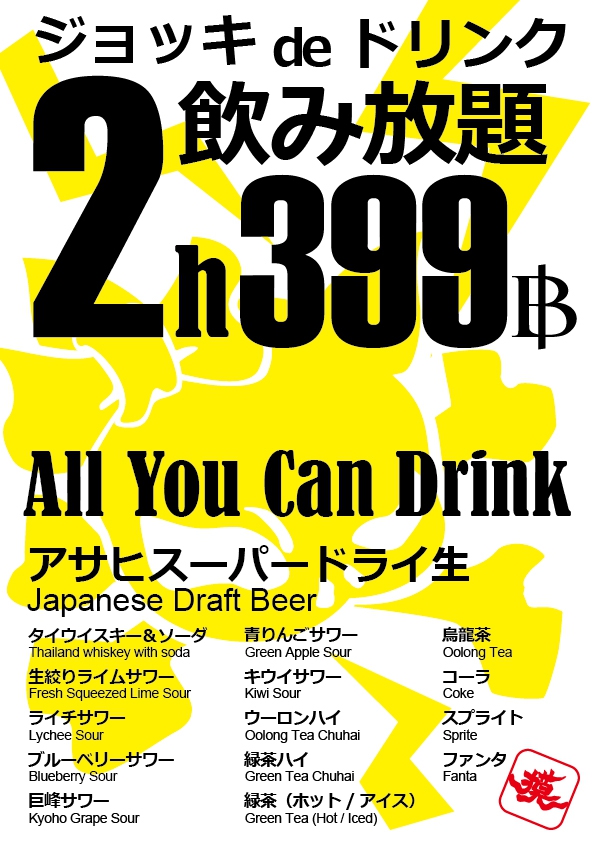 Asahi Super Dry Draught, Shochu Sours, and Soft Drinks - ALL YOU CAN DRINK for 399BAHT
At any time of the day, any days of the week!
Asahi, Shochu Sours, and Soft drinks are available for 399B!
Try our special 50BAHT appetizers to go with your drinks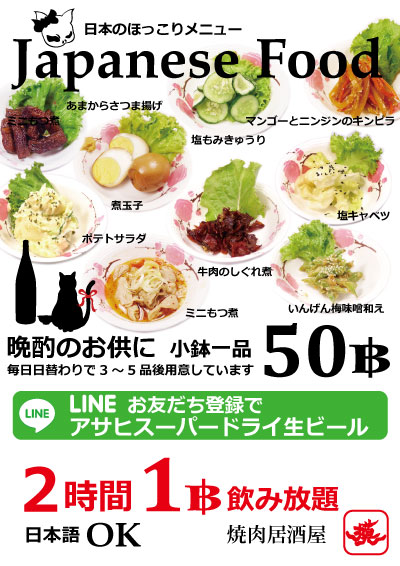 50 BAHT dishes right from Japanese Mom's Kitchen
How do you like some appetizers with your drinks tonight?
We have 3-5 different dishes every day.NEW!
Simmered Eggs, Potato Salad, Mini Innards Stew (Simmered Beef Giblets), Ume-Miso Green Beans, Sweet and Spicy Fishcakes, Lightly Pickled Cucumbers with Ginger, Sweet Sauteed Mango and Carrot, Beef Simmered with Sweet Soy Sauce, Lightly Salted Cabbage...etc.
We are planning to have more dishes available for you with your request!